Palestine: 60 years of dispossession and resistance
Nakba Day events at the University of East London
To see video material from this event, please use this link:
15 and 16 May 2008, Docklands Campus, UEL
On Nakba Day, 15 May, Palestinians mark events which resulted in mass displacement and exclusion. In 2008 it will be 60 years since a million people were compelled to leave their homes – most never returned.
You are invited to the Docklands Campus of the University of East London to join historians, social scientists and film-makers in discussion on the conflict of 1948, its outcomes and the implications for Palestinians and for Israeli society.
Thursday, May 15th
14:00

Introduction
Welcome messages from PSC and PRC
14:10 Panel: Nakba: From Memory to struggle
Chair: Prof. Yosefa Loshitzky (University of East London)
Dr. Dina Matar (SOAS)
Memory as Struggle
Omar Barghouti (PACBI)
Ending the Nakba: Ethical De-Colonization of Historic Palestine
Prof. Haim Bresheeth (University of East London)
Two States, too little, too late: The next Stage


15:45

Panel: Zionism and Palestinian realities
Chair: Dr Peter Morey (University of East London)
Dr. Nur Massalha (SMC, University of Surrey)
The Politics of Denial
Prof. Moshe Machover (Kings Colleg, London)
Zionist Colonization in a Regional Context
17:00 Keynote Address
Chair: Dr. Amina Yaqin (SOAS)
Prof. Joseph Massad (Columbia University, New York)
Resisting the Nakba
18:15 Film Show:
1948 by Mohammad Bakri (Palestine, 1998, 90 Min)
Friday, 16 May
Introduced by Nizar Hassan (SC) and Eyal Sivan (UEL)
10:00 Ashes by Rim Issa (Palestine, 2007, 37 Min)
10:40 The Nakba Archives (Extracts, by Diana Allan and Mahmoud Zeidan)
11:15 Egteyah by Nizar Hassan (Palestine, 2003, 90 Mins)
13:00 Route 181 (Centre) by Michele Khleifi and Eyal Sivan (2003, France, 1 H 30 Min)
15:00 Panel: Nakba on Film, Chair Prof. Haim Bresheeth (UEL)
Nizar Hassan:

The Nakba in my films

Haim Bresheeth:

The Nakba in recent Palestinian films

Eyal Sivan:

Cinematic Memory Holocaust and Nakba
18:00 A State of Danger by Haim Bresheeth and Jenny Morgan (UK, 1989, 30 Min)
18:30 Karm Abu Khalil by Nizar Hassan (Palestine, 2003, 90 Mins)
Organised by: Refugee Research Centre, UEL; Matrix East Research Lab, UEL; and Framing Muslims – an AHRC research programme. Entrance is free: you are strongly encouraged to book a place by contacting Phil Marfleet; p.marfleet@uel.ac.uk; tel 020 8 223 7690.
Below you can see photographs of speakers in some of the sessions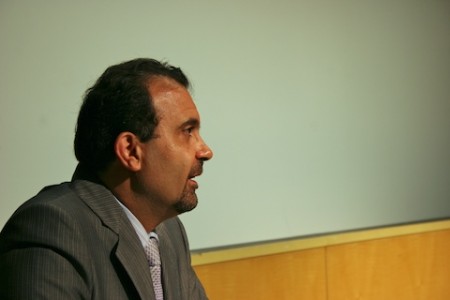 Prof. Joseph Massad delivering the keynote address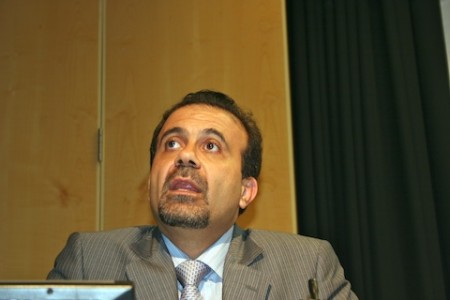 Prof. Joseph Massad answering questions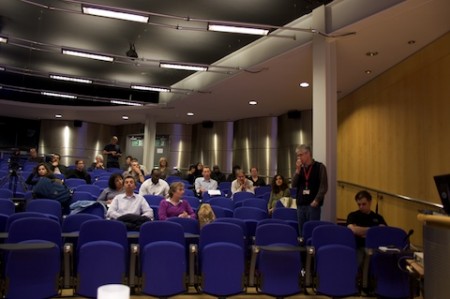 Intervention by Phil Marfleet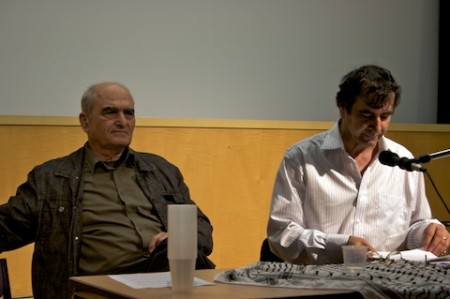 Prof. Moshe Machover and Dr. Nur Masalha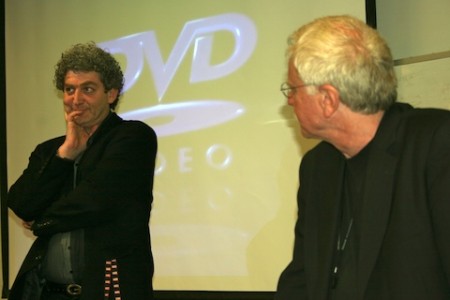 Eyal Sivan and Prof. Haim Bresheeth