London is Burning (2012) 45 minutes, aspect ration 16:9.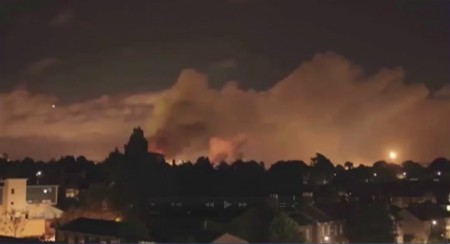 London is Burning: Painful conversation is a documentary film by Haim Bresheeth, made during the months following the riots, and completed in May 2012. It features a number of key activists and social theorists, in conversation about this painful social events during the summer of 2011. The film is 45 minutes long, and is availabale on DVD and Blu-Ray. For more information about it, and its past and future screenings, check its website: https://www.haimbresheeth.com/lib/
The project has a number of other forms, the main other one being a 20 screen version which is 25 minutes long, but can only be seen at the Matrix East Research Lab (MERL) at the University of East London.
The short video poem "2004" is 10'20" long, and is made of non-photographic images, entirely computer-created and manipulated. The film is part of alarger project called Darwin's Dream, which includes 16 screens.
2012 – Darwin's Dream, a 10 minute 24- screen video installation, to be premiered at MERL in June 2012. The installation includes no photographic video footage – it is wholly based on electronic virtual imagery.
2012 –  London is Burning a 24 screen video installation, to be premiered at the London: City of Paradox conference, London, April 3-5 2012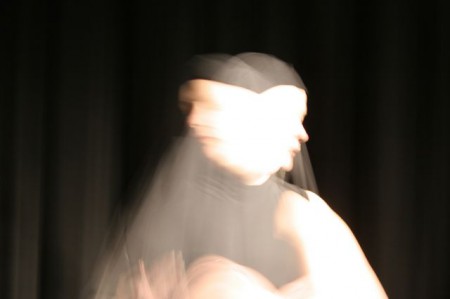 Prof. Lizbeth Goodman in A Civilised Clash
Art in Exile, 45 min. (projected) a documentary about the art acquisition policies of western museums, to be shot in UK, USA, France, Italy and Egypt. Financed by the AHRC (Arts and Humanities Research Council, UK)
2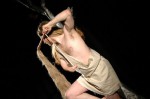 008 – A Civilised Clash, 18 minute – a 16 screen drama-dance production, with Prof. Lizbeth Goodman and Bobby Byrne as the Dancers. Music by arrangement with Kila, Dublin. An introduction to the project and Production photographs can be viewed here. To see a short clip of the making of this film, click here. To see the whole installation in situ, click A Civilised Clash. This was shot by two cameras from the audience position during the July 2008 Summer show at MERL.
1989 –

A State of Danger, 30 min., a documentary about Israeli-Palestinian cooperation against the brutalities of the occupation, during the first Intifada. Aired on BBC2, March 1989.
Director/Producer, Sound, shown in film festivals at Chicago, October, 1989, Leipzig , November, 1989, and France, October, 1989, Recently shown at the EmptyLand Film Festival, Amsterdam (January 2001). Distributed through Women Make Movies. To read a review.
1981 – The Options, 30 min., a documentary about the Steel Workers strike. Production, Sound, Camera.
1977-1979 – Senior Producer/Director at Medi-Cine Ltd, producing and directing over 30 individual films, mainly medical documentaries. The main productions were:CVC – an 8-part series of films about the Cardio-Vascular system, each on a different aspect, lasting half an hour. Produced for ICI. Echo Sound – A series of four films, concentrating on what was then a revolutionary method of medical examination of internal organs, each part lasting 25 minutes. Ampicillin – A film of 30 minutes presenting what was then the newest antibiotic.
1977 – Dinosaurs in the Playground, 40 min., a documentary charting the development, over a number of years, of a public art project in London. Commissioned by the Inner London Education Authority (ILEA). Distributed through the Arts Council of Great Britain. Production, Camera.
1975 – The Crumbling Ivory Tower, 45 min., a documentary about art education in Britain, commissioned by UNESCO. Distributed through UNESCO. Director, Producer.
1972 – Spring's End, 19 min., fiction. Director, Producer. First shown at the Tel Aviv Cinematheque, Tel Aviv Museum, November 1972.1973 – The Test, 11 min., fiction. Director, Producer.
1971 – Running, 10 min., fiction (based on a story by F. Kafka), Director, Producer.
Gaza Boat trip on the Dignity by Bricup members
Two short clips which I have made, interviewing Prof. Jonathan Rosenhead and Mr. Mike Cushman, who have sailed to Gaza aboard the boat Dignity as part of the Free Gaza campaign, in order to bring out Gazan students stuck there because of the illegal Israeli blockade. The film is in two parts, and can be viewed on YouTube:
Part 1
Part 2