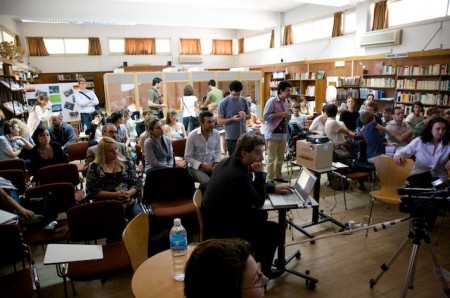 Conference session at the Goethe Institute, November 8th, 2008
organized by Socrates Stratis & Angela Melitopoulos
Any attempt to understand the rapid transformation of territories in the 21st century reveals shifting landscapes and moving boundaries, thus a continuous struggle for their redefinition through conflicts and exclusions. Different conditions of mobility and migration encouraged by the so-called 'globalised world' inscribe in material environments social and psychological borders. In this context Cyprus and its inherent division acts as one of the frontiers to the EU. The aim of this workshop is to explore such liminal spaces with a particular reference to Cyprus and the Middle East.
How are liminal spaces constructed and managed and how can one think them from an interdisciplinary perspective?
What dictates the organization and management of these liminal spaces? What facts on the ground challenge the actual negotiation of such "zones under construction"? How do liminal spaces relate to a larger genre of boundaries present in contemporary urban environments? How do continuous fragmentations and reconnections in liminal zones shape contemporary urban societies?
This seminar proposes to engage in several roundtable discussions as productive strategies and tactics encouraging engagement between publics fragmented by the limit. We would like to explore the interdisciplinary roles of visual culture and architecture as porous interfaces within such a territory.
The seminar will take place within the Department of Architecture (University of Cyprus) and the Goethe Institut Nicosia. It will bring together scholars and practitioners from Cyprus, France, Germany, Greece, Israel, Palestine, Turkey and the UK. "Liminal Zones" proposes the creation of a research platform that will be continued in the future as a model for exchange and production of diverse methodologies.
To see an enlarged picture, click on the thumbnail image. By clicking on the name you can find more details about the speaker and their topic.
| | |
| --- | --- |
| | Mete Hatay, who has led the tour through the Turkish side of Nicosia, and works for a Norwegian charity. |
| | |
| --- | --- |
| | Conference session on November 6th, at the School of Architecture, Nicosia University |
| | |
| --- | --- |
| | Socrates Stratis, of the School of Architecture, during the tour to the Turkish side of Nicosia |
| | |
| --- | --- |
| | Angela Melitopoulos, one of the two organisers of the conference, delivering her paper on The Blast of the Possible installation |
| | |
| --- | --- |
| | Anna Grichting speaking on the Boundaryscapes: Recasting the Green Line of Cyprus, November 7th |
| | |
| --- | --- |
| | Eyal Sivan, speaking on November 7th, on the Common Archive |
| | |
| --- | --- |
| | John Palmesino, speaking on the Cyprus and the World Without Borders, November 5th |
| | |
| --- | --- |
| | Eyal Weizman gave the keynote address, on Future Archaeology, on November 5th |
| | |
| --- | --- |
| | Socrates Stratis, speaking on the Public Role of the Architect in Liminal Conditions, November 6th |
| | |
| --- | --- |
| | Maria Loizidou speaking on November 6th, on the "Public Private Synergy Convoy" Project |
| | |
| --- | --- |
| | Rebecca Bryant, speaking at conference on The Spoils of History, November 7th |
| | |
| --- | --- |
| | John Nassari speaking on Future Screens, on November 7th, on the right |
By definition, political subjects are both excellent and difficult to photograph, as too many images of political action seem to be similar.
| | |
| --- | --- |
| | During this left-wing demo in Piazza Navona, Rome, I have noticed the most incredible range of people partaking, from manual workers to intellectuals, all hobnobbing together. This Stalin clone was too good to miss, as he worked so hard on his mustache |
| | Just as I tried in vain to frame this approaching demo in Rome, Cartier-Bresson's spirit introduced this couple into the frame. |
| | In Zurich, this group of Irainian demonstrators had precious little interest from passing commuters in the chill of winter. They looked lost, dejected and hopeless. |
| | At the time I took the picture, the election in Switzerland were raking up much racism and anti-foreign, xenophobic sentiment. Billboards were covered in racist propaganda, which seemed to be incredible to us, as this could not (yet…) happen in Britain. This was a campaign poster of the left, which incidentally lost ground in the election. |
| | In a beautiful park in Bilbao, we happened to see this small anti-globalisation demo, in front of one of the many commercial HQ buildings in this affluent Basque city |
| | |
| --- | --- |
| | For most Palestinians, this is what they see from their windows – a 100 foot surveiilance tower – you are never far enough from the watchful eye of the foucauldian state… this, together with unmanned drones, satellites, airplanes and army patrol, complete the picture of the occupying power and control. You imm mediately know who holds the power. |
| | The anti-War demos have been getting smaller every year, after that amazing demo with 2 millions in London, which as we know made no difference. Still, millions everywhere continue to oppose this mad war, destructive for Iraq, the region and the world. |
| | During the 2004 demo, I noticed the huge number of surveillance cameras everywhere, photographing our very move. And this was before Edward Snowden told us… |
| | It was a windy day, and bitterly cold, but still hundreds of thousands came out in protest against this disastrous government and its US partners. |
| | Many of us have been toi this same sqaure in central London hundreds of times on demonstrations, and on the whole, we have little to show for it… Palestine? Iraq? Well, there is also South Africa, and now Ireland. Keep marching! |
| | Many of us have been toi this same sqaure in central London hundreds of times on demonstrations, and on the whole, we have little to show for it… Palestine? Iraq? Well, there is also South Africa, and now Ireland. Keep marching! |
Objects are evidence; evidence of time, evidence of use, evidence of life and of the elements. They remain here when we are long gone, changing with time. Most images here were shot on film – either on 35mm or 60mm by 60mm, and many are connected to the sea. The sea always ages objects in the most unique way.
| | |
| --- | --- |
| | Another picture taken by Benny Bronstein and me on film years ago. This is the Jebalia beach, near Jaffa. |
| | Norfolk beaches are teaming with objects which were licked by the waves and dried by the merciless north wind – wood especially benefits from this treatment. |
| | On the sandy Norfolk beach, this mysterious object was irresistible. |
| | On the Norfolk broads, mornings and evening are magical. The gentle fog kills the faraway sounds, and gives a special depth to images, muting their colour palette. |
| | A Hammam doorway in Marrakech, with the ever-present weapon of mass-destruction, the scooter. |
| | A Swiss barn-door in the Valais, showing all the signs of life and labour, and little different from the doors I photographed in the Third World. |
| | Another doorway in Marrakech, in the Mellah, the Jewish quarter. The reds of walls and doorways are of the same family of hues which is used to paint walls in Rome, and yet, so different. The colour is gentle, yet persistent and pervasive. |
| | In an antiquarian shop in the Medina, an old Hanukah lamp, genuine and no doubt looted from the Jewish population of the Mellah. There is an amazing range and variety of Judaica here, which makes you realise how integrated and large this Jewish community was. |
| | Mysterious bundles of coloured twine abound all around Morrocan cities,especially in Marrakech. to begin with, one is lost when inquiring about. People would rather not tell you, but all around town, young men are weaving their balls of twine. It is a form of practical magic called Schur, designed to dispel the evil spirits or Jinns. |
| | In the main street of Bern, Large colourful flag-bearing posts are dividing the street into sectors, diverting your gaze. Each is adorned with a different, striking face. |
| | Certainly one of the largest and most intriguing objects anywhere, Louise Bourgeois's metal spider towers over the visitors to the riverside Guggenheim Gallery in Bilbao. |
| | The underside of the spider at Bilbao. |
| | |
| --- | --- |
| | Could those long poles in a Marrakech street really be holding up the wall? |
| | A scooter in Marrakech, attracting the voracious and capable denizens of the streets. |
| | The colossal bust of Rameses, now in the British Museum, has been there over 150 years, ever since it was 'prospected' by the great adventurer, Giovanni Battista Belzoni, who has used hundreds of Egyptian peasants in 1815, and recorded this feat of archaeological engineering in a famous coloured drawing. |
| | One of the largest and most majestic objects of Ancient Egypt, the Sun Barque of the Pharaoh Khufu, was found disassembled, in a special covered trench by his pyramid and took 30 years to put together. |
| | Walking slowly through the Marrakech Medina, one comes upon mysterious and magnificent views, as if turning in a dream towards a sight known from another life. |
| | A sculpture by nature, being reshaped as time passes. |
|   | I watched this spider feed on a number of flies and a small insect of no clear identity. |
|   | In Sardinia, the traces of the Arab occupation are as insistent as in Palestine. |
|   | This intricately-shaped rock was my favourite place on the beach in Sardinia – you could feel the eons it passed quietly there. |
| | |
| | |
Places mean more than their image gives away – they hide but also reveal – so one can see how people lived in them, loved them, or were frightened of them.
| | |
| --- | --- |
| | This hill in Tuscany has taken my fancy and I have spent some days on editing the picture into this hybrid. |
| | The beach of my childhood, and one of my very first pictures, taken on an ancient Kodak Retina IIa, which always leaked light at a certain angle to the sun… Now I hope to replace the long-lost camera with another one of the same fabled model… |
| | Jerusalem at sunset, some days after the beginning of the Al Aqsa Intifada, as if the landscape knew. There again, Jerusalem looks like this quite often. It must be all the blood in its history. I did not have to use filters here. |
| | A photograph of my mother, My uncle and a dear friend of the family, Dr. Braver, as well as three-year old me. This is on the beach, some 50 yards from our flat in Jebaliia (Jaffa), and in full view of one of the Palestinian boats which were left by the many who have fled away from the Israeli army as it entered Jaffa in 1948, during what is termed the Nakba (the great catastrophe). Many of them died at sea, trying to reach Gaza or Lebanon. The boats stayed on the beach for years after 1948, until destroyed by the winter storms. |
| | A bridge in Norfolk. This is the kind of green you never see in the Mediterranean, and I did not even know it existed before coming to England. |
| | |
| --- | --- |
| | A night in Rome, as one turns the corner, one is always surprised there. |
| | The pastels of the house fronts in Salcombe are musical to the eye. |
| | The Post Office of Salcombe, one of many pictures I took of Post Offices all around Britain. |
| | Those trees on the Pacific coast in California bear witness to the power of the wind which shaped them. |
| | One of the few surviving cinema buildings, though not active, in Marrakech. This is actually in the French part of the city, Gueliz, but seems to have closed some decades ago. |
This cinema in the Medina in Marrakech was working, and showing many Bollywood films, of course.
This hotel balcony in Basle has a historical resonance. The hotel, the Three Kings, is the one Theodor Herzl stayed in during the first Zionist congress in 1896, and on the same balcony was taken his famous portrait. The congress took part across the road, in the municipal casino… So the beginnings of Zionism were a dangerous bet.
 
A pub in Haringey, inviting you into the cool dusk at high noon, when even the London sun can be beating down with a vengeance.
 
Crouch End, the Clock Tower, an enclave of the late 19th century, almost unchanged.
 
Light in the London Parks is like nowhere else. I first noticed its intoxicating qualities in Antonioni's Blowup.
 
Winter in London is the time to get the medium format camera, load it with a black & white film, and get that special dead light when the sky is cloudy and the cold is making everything look sharp and desolate.
 
Another pub in Haringey, deserted at lunchtime.
 
One of hundreds of London's overground stations, empty most of the time, and awaiting one's gaze, which it appreciates.
 
Hampstead ponds on a clear cold Spring day.
 
Black & White is good for the London buses, my favourite way of discovering hidden corners of London.
 
The New River, a man-made freshwater canal built in 1613 to bring water from Chadwell all the way to central London, 40km away. It is an amazing achievement for the time, as the fall between both ends is only 4 meters! This means calculating a fall of 1 in 10,000 – even today, this will be almost impossible to achieve. At the time, gravity did the work, now pumping seems to have replaced it.
 
Saville Gardens, at Windsor Great Park. A corner of the past preserved for the future, one hopes.
 
The time to sit on this bench, your face gently

 warmed by the setting sun, is of course on a summer evening, after the multitude have left to watch television. 
People are the most difficult, but also the most rewarding subject to photograph. The few examples here show thus clearly, I hope.
| | |
| --- | --- |
| | I saw this baby on his own, seemingly abandoned, sleeping very peacefully, the kind of sleep which only babies seem capable of. |
| | |
| --- | --- |
| | On the beach in Dubrovnik, early evening is the time of the chess players. Every move is discussed and dissected by all present. |
| | In a piazza in San Diego, we saw this father and his daughter asleep, on a very hot day, totally oblivious to all and sundry. |
| | On a summer's day, in a Queens Wood cafe, I saw this young boy, Harry Potter-like and photographed him before I looked around. It was amazing to find out, immediately afterwards, that he is the son of an academic colleague, Prof. Rosie Thomas. |
| | In a small town in Montenegro, this man crosses our path, carrying his large radio, playing to himself in the empty street. What is he listening to? Where is he going like this? Does he always carry his radio with him, like Radio Rahim in Spike Lee's Do the Right Thing? |
| | In an East Jerusalem busy road, while the soldiers drive people to clear the road, for some unknown reason, this man is not giving up on finding a bargain. |
| | |
| --- | --- |
| | In a park cafe in mid-summer, this man sat and looked miserable, totally alone in the middle of the hubbub, and after some time he could stand it no more, and started crying. |
| | This picture was taken many years ago, by me and Beni Bronstein in Tel Aviv. The man looked at me while I pressed the shutter with a gaze which was empty of life. |
| | A woman walking past me in East Jerusalem, when both Israelis and Palestinians had a reason to hope for some future together. |
| | A street scene in Marrakech – two women, two donkeys, and much affection. |
| | |
| --- | --- |
| | Night in the Medina in Marrakech, and the stall holders, all women, are still there, waiting in vain for one last customer… while waiting, they never rest, knitting more of their wooly hats |
| | In a cafe near the Saadian tombs, East meets West |
| | Mysterious bundles of coloured twine abound all around Morrocan cities,especially in Marrakech. to begin with, one is lost when inquiring about. People would rather not tell you. Some young men were using coloured threads to weave this, very silent and serious. Maybe it is a part of Shchoor ceremony. |
| | This is one of the mysterious weavers of coloured twine balls, in action in small but perfect garden in the Medina. He refused to tell me what he was doing – a form of practical magic called Schur, which is designed to dispel the evil spirits or Jinns. All around town, young men are weaving their balls of twine. |
| | Another picture taken by Benny Bronstein and me on film years ago. This is the Jebalia beach, near Jaffa. |
| | Tim always stops moving in pubs during lunchtime. Who are these people? Do they know each other? Why are they so silent? Will they be there tomorrow? |
| | Sitting at Finsbury Park station, on a sunny freezing day, with people passing by and looking into the camera lens, is estrange experience, but one I would not miss – it also reminds me of a Kafka short story "Running past Us". |
| | In a park in the centre of Luchon, in the Haute Garron, a lunchtime concert of a world-famous pianist is held for the edification of the public at the Roman Baths. A brother and sister were left by their cycling parents in the pail, seemingly trapped for the duration of the concert. But they liked it. |
| | The new starers leading to the old granary at Kings Cross, where the Central St Martin's School of Art has moved to. The place is unreal, belongs to a company and is totally privatised, with the public suffered to enter. For the time being, it seems. The water nearby (of the Grand Union Canal) are a saving grace. |
| | I watched this elderly couple gently as they watched others, more mobile than themselves. The pigeons where waiting for them to move, so they could finish the cakes they left. |
| | It is quite difficult to photograph quickly with the 6*7 heavy film camera, but sometimes you have to try – passing by open doorways, peeking into a scene excluding you, where people are in the middle of things, with intense discussion, and probably deep disagreement in evidence. You will pass, and they shall continue to pursue a mysterious agenda. |
| | |
| | |
| | |
| | |
| | |
The Gallery is still being constructed
[photopress:Cigogne_1_2.jpg,full,centered]
A selection of photographs by Haim Bresheeth can be seen in the different pages of the Gallery.